#lgbtqownedbusiness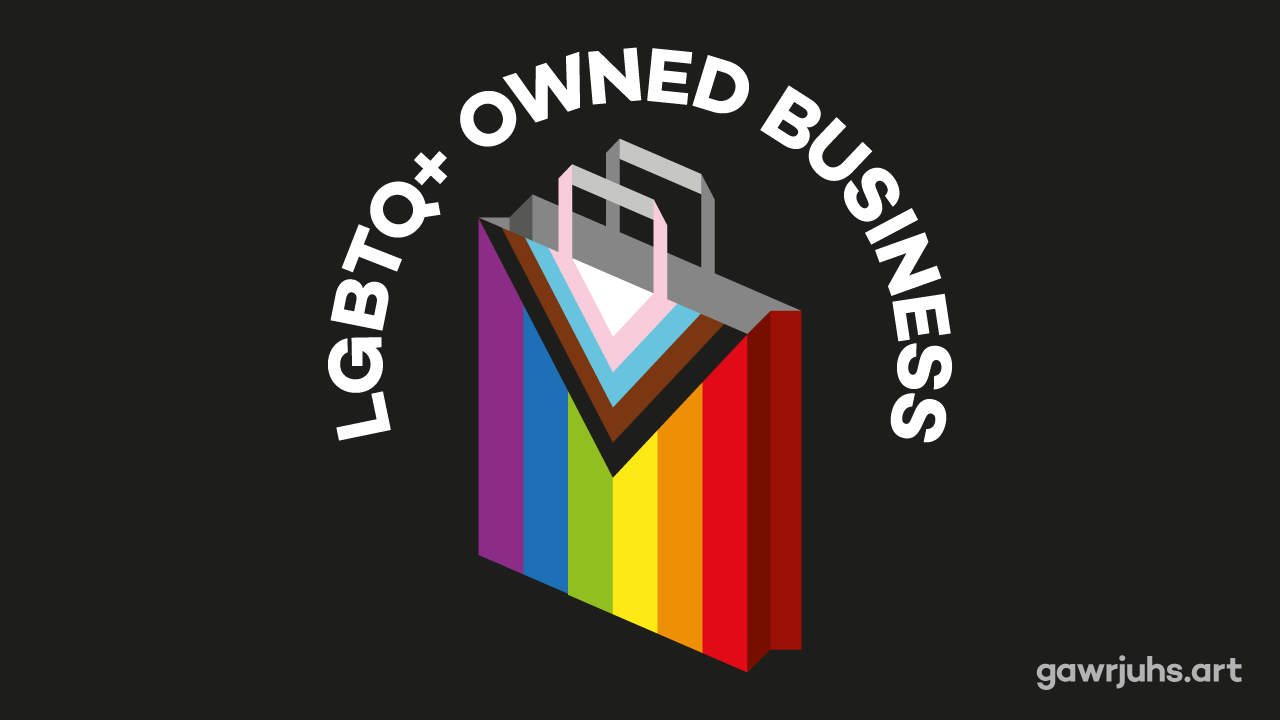 If you follow my [gawr-juhs] art Instagram account, you'll know that I try and tailor the hashtags at the end of each post to be relevant to the content that I'm sharing. There are a couple of hashtags, however, that I tend to include in all the posts that I write. These are #supportlgbtqbusinesses and #lgbtqownedbusiness.
The reasons that I use these hashtags are simple. One is to let people, who are reading my posts, know that my business is LGBTQ+ owned. The second is to remind people that LGBTQ+ businesses support and champion our community all year round. Like many others, I've become rather tired of watching major corporations put a rainbow flag across their logo for 30 days each year, in an attempt to appear inclusive.
This lead me to contemplate how I could visually inform visitors and potential customers, to my site, that my business was LGBTQ+ owned. That, as a gay businessman, I actually value and appreciate every online purchase that is made on my [g]store. And that once Pride Month is over, I'll still be here, endeavouring to create new designs that I hope people from my community will find relevant and inclusive.
I wondered if there was some generic logo I could add to the footer of my site, that would provide this function for me. Internet searches turned up various logos for a range of LGBTQ+ trade associations and professional networks, but none matched what I was looking for. So once again, I rolled-up my sleeves and designed one myself.
I have to say that I'm pretty happy with final outcome. For me, the image of a tote bag emblazoned with the Pride Progress flag implies LGBTQ+ shopping, commerce and enterprise. And the addition of bold typography, around the top of the bag, reinforces the purpose of this icon. For flexibility it is designed to work on both light and dark backgrounds. I also experimented with various sizes, and a height and width of between 100 and 130 pixels felt to be correct, especially when viewed on mobile devices.
Now that I have this icon, it seems silly for me to be the only business to be able to use it. So I'd like to offer it to any other LGBTQ+ business owner, who thinks it may be helpful for them too. I've prepared a some versions for websites and others to use on printed materials. Plus, there are two circular PNG files that you add to Instagram Stories as stickers. To get copies of these, simply click on this link to my Google Drive, and download the versions you require.
It would be awesome if this became a recognised symbol. A marquee that enabled the LGBTQ+ community, and our allies, to quickly identify who the genuine LGBTQ+ Owned Businesses are. And who they should really consider supporting during Pride Month and beyond.